If you're looking for resource management software, Retain and DayShape are two leading contenders. Both offer distinct features to streamline your resource management processes. But which one should you choose?
That's exactly what we'll help you decide in this guide. We'll walk you through a detailed comparison, evaluating critical aspects like usability, features, pricing, customer support, and integration capabilities.
Our objective? To provide you with the essential information needed to make an informed decision and choose the software that aligns best with your business needs.
Let's get into it. 👇
What is Retain?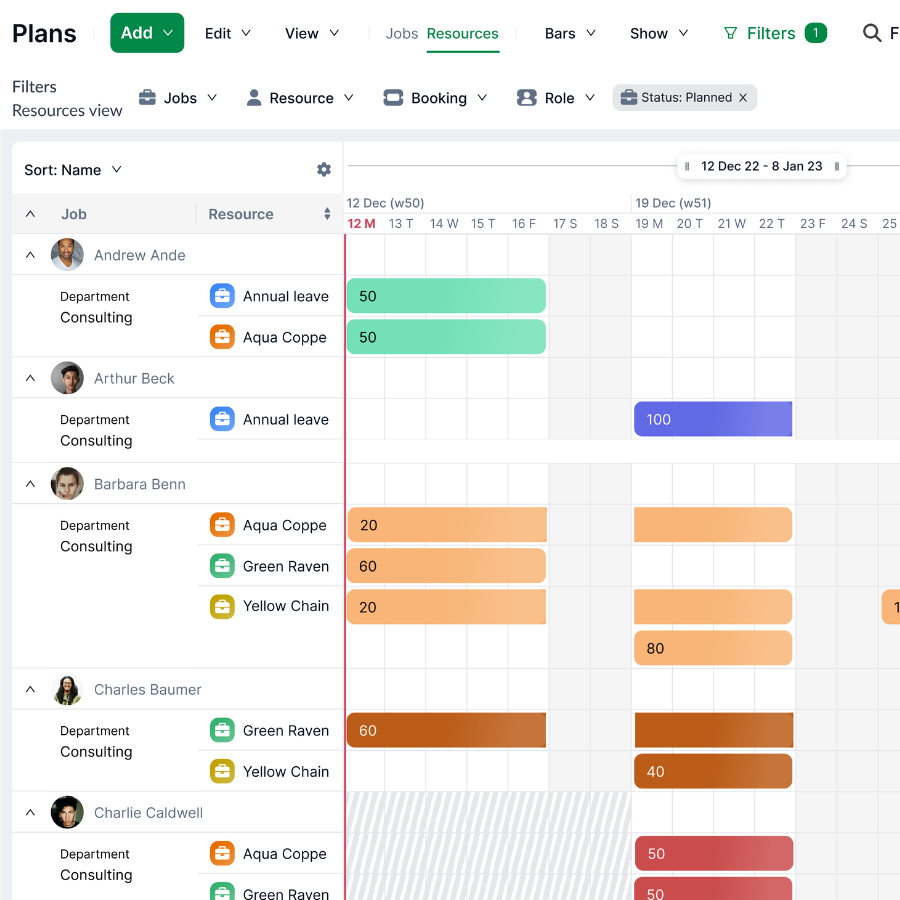 Retain has long been a cornerstone in resource management software. Established over two decades ago, Retain has been consistently evolving, adapting, and innovating to meet the ever-changing demands of resource management. 
With a long history of servicing top professional services firms like Deloitte, KPMG, EY, and more, Retain has cemented itself as a trusted and reliable resource management solution provider. Our longevity in this space speaks to our capabilities to understand and deliver on the needs of the industry.
Its recently upgraded version steps up the game with advanced AI capabilities to deliver a more dynamic, efficient, and intelligent resource management experience. This capability can drastically improve planning efficiency and accuracy, giving Retain a unique edge in the market.
With Retain, resource recommendations are taken to the next level. Leveraging sophisticated AI algorithms, the software intelligently suggests resources that align with project requirements, individual skill sets, and availability. It proactively analyses historical data and patterns to drive optimal resource utilisation and improved project results.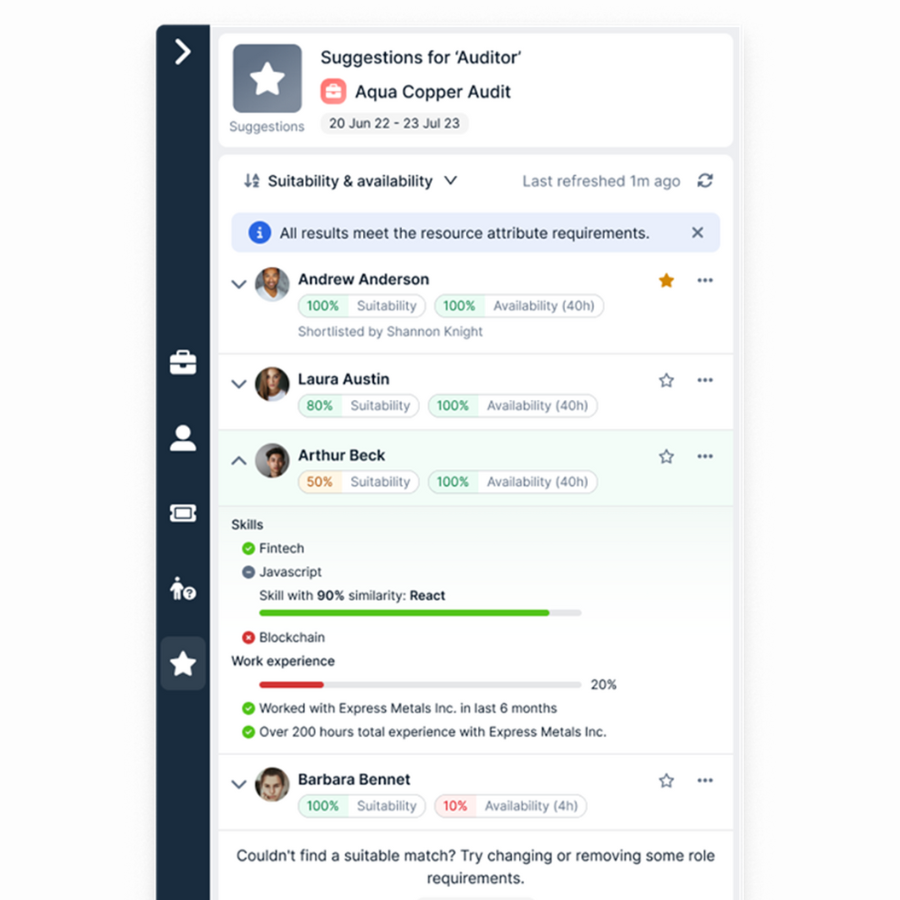 The benefits are extensive: 
🟢Optimise resource utilisation and boost productivity by automating traditionally manual tasks like skill matching. 
🟢Precise allocation of resources, and improve customer satisfaction and retention, leading to stronger market reputation. 
🟢Future-proof resource management, Retain adapts as your business evolves, offering ongoing optimisation and meeting your changing needs.
Retain also includes a multitude of project forecasting tools, skill-matching capabilities, and a highly flexible reporting system. And with its integration capabilities, Retain can seamlessly work alongside other project management and HR software, ensuring a unified, efficient workflow.
With everything under one roof, the software offers a visual 'wallchart' interface that allows users to see at a glance who's available, who's assigned, and who's overbooked, making resource allocation straightforward and efficient. User-friendly, feature-rich, and backed by smart technology, Retain has been one of the main go-to solutions for resource management for many years. 
You can get started now or see how DayShape measures up compared to Retain…
What is DayShape?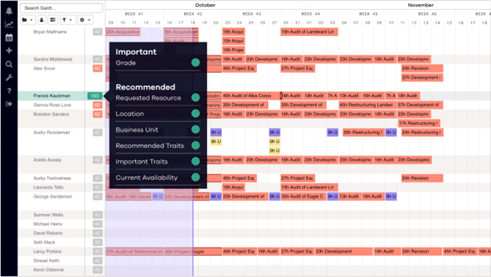 DayShape, a relatively newer player in the resource management software market, offers a streamlined solution for businesses seeking to optimise their resource management. At the heart of DayShape lies its scheduling engine. It presents a real-time, visual overview of resource allocation, allowing managers to quickly identify availability, balance workloads, and minimise under or overbooking.
Similar to Retain, DayShape also stands out for its machine learning capabilities. It employs AI to learn from past projects and resource utilisation, then uses this knowledge to make intelligent recommendations for future assignments.
In terms of features, DayShape brings together resource scheduling, engagement financials, reporting and management information in one interface. The software's integration abilities make it compatible with a range of third-party applications including project management and HR systems. 
Next up, we'll compare these two powerful tools to help you decide which one comes out on top.👇 
Disclaimer: While we strive to provide an accurate and fair comparison between Retain and DayShape based on publicly available information, there may be additional features or context not reflected here. This post should not be considered exhaustive or definitive.
Retain vs DayShape: Interface and usability
When it comes to interface and usability, both Retain and DayShape bring their unique strengths to the table:
Retain
Retain offers a visually compelling 'wallchart' interface, presenting a comprehensive view of resource allocations at a glance. The real-time view of resource availability, project assignments, and potential overbooking instances makes navigating the system straightforward. 
The AI-enhanced interface takes usability to the next level, streamlining the process of resource recommendations and skill matching. With Retain, the complexity of resource management is made simpler and more intuitive.
One of the standout features of Retain's interface is its customisability. You can tweak the system to align with your business's unique requirements, an advantage that many users find incredibly valuable. 
In addition, Retain's focus on user-friendliness is reflected in its easy-to-navigate menus, interactive graphics, and responsive design, all contributing to an overall positive user experience.
DayShape
DayShape's dashboard offers a quick overview of resources, and the drag-and-drop functionality facilitates easy and flexible scheduling. However, like every new tool, it could take time to get used to, especially for those not familiar with this type of layout. 
In terms of learning curve, Retain and DayShape are quite comparable. Both systems offer comprehensive tutorial resources to help users get started. However, with Retain, the learning process is highly personalised, as the system adapts and evolves according to your usage patterns and feedback. This personalised learning and optimisation could make Retain more user-friendly over time, providing a better long-term user experience.
💡The verdict: While both Retain and DayShape offer user-friendly interfaces, Retain stands out for its advanced features, customisability, and long-term learning and adaptation capabilities, which contribute to superior usability. 
In the next sections, we'll delve deeper into their features, pricing, and customer support, to give you a more rounded comparison.
Retain vs DayShape: Key features
In the battle of features, both Retain and DayShape come well-equipped, offering a wide range of functionalities designed to streamline resource management.
Retain
Starting with Retain, the key features include:
🟢Simple, speedy scheduling: Retain offers a single, comprehensive view of all your bookings, jobs, clients, and resources. With at-a-glance access, scheduling new client resource requests is quick and efficient. It's simple to check availability and capacity across your organisation, making the task of adding, editing, or deleting bookings and jobs more straightforward. 
🟢AI-powered rapid resource planning: Retain allows managers to search for unassigned resources quickly, pinpoint specific skills, or view resource availability. Plus, AI algorithms recommend resources based on project requirements, skill sets, and availability, making the entire process quick, precise, and less manual. This ensures the right skills are matched with the suitable projects, enhancing service delivery.
🟢Smart resource matching: With Retain's new AI capabilities resources are matched with projects based on their skills, certifications, experience, and availability. The system provides details of the match, explaining the suitability and criteria, thus making it simpler to find the perfect fit for a role or responsibility.
🟢Track time & billable hours: With Retain's Timesheets feature, resources can log their time against projects, and the system calculates billable hours for clients. This provides instant access to project performance and aids in keeping projects within budget, enhancing business management.
🟢Pinpointing the right people: Retain makes it easier to match people with projects that suit their skills, certifications, experience level, and availability. It provides access to up-to-date personal profiles, making it simpler to find a qualified resource for a specific role or responsibility. 
🟢Digging into the details: For data-driven decision-making, Retain offers a suite of flexible reports and dashboards using Microsoft Power BI. With a few clicks, you can create your own dashboard, visualising availability and utilisation, spotting trends, or identifying potential bottlenecks.
🟢Doing more with data: Retain also enables integration and automation, bringing together disparate systems to save time. By integrating data from across your organisation, including CRM and HR systems, Retain provides a single, comprehensive view of your business and its people. 
🟢Continuous learning: Retain learns from user feedback and data patterns, fine-tuning recommendations and resource allocation strategies over time. This learning process ensures the system's increasing effectiveness in catering to your unique resource management needs.
DayShape
Turning to DayShape, its core features include:
🟠Dynamic scheduling engine: Using suitability scoring you can match the right person with the right job, based on configurable criteria such as availability, grade, location, or skills.
🟠AI-enhanced resource management: Use AI to create optimal resource plans and adapt to change.
🟠Track engagement performance: Gain a single source of truth for financials. 
🟠Third-party integrations: DayShape also supports integration with a variety of third-party applications, including project management and HR systems.
🟠Governance controls: Configurable project controls and workflows. 
💡The verdict: While DayShape offers robust features, Retain's capabilities, including speedy scheduling, resource planning, time tracking, skill matching, mobile app, detailed reporting, and data integration, could set it a notch above. These functionalities are designed not just to streamline operations but also to drive improved decision-making and project outcomes. 
As an interesting side note, Retain's ethos isn't to replace your Resource Manager; instead, Retain elevates their role. By intelligently matching your team's unique skills with appropriate projects, Retain ensures the best outcomes for both your people and your business. 
Retain vs DayShape: Pricing
The pricing of resource management software can be a significant deciding factor for many businesses. Therefore, it's essential to compare the cost-effectiveness of Retain and DayShape.
Retain
Retain's pricing structure is designed to accommodate businesses of varying sizes, and it's structured in a straightforward and transparent way. There are three pricing tiers: 
🟢Entrepreneur is for small businesses with up to 50 users, and it starts at £17 per month. It includes all core features and gives access to Retain's mobile application and standard integrations.
🟢Expanding starts at £15 per month and is suitable for businesses with 50+ users. It includes everything in the Entrepreneur package, plus premium features like advanced BI reporting and priority support.
🟢Lastly, Enterprise offers a bespoke package designed for enterprises with more than 1000 users. It includes all features from the other tiers and offers bespoke options tailored to the specific needs of larger enterprises.
All tiers include access to the latest features and improvements, such as the AI capabilities in Retain 1.17. This makes Retain a cost-effective solution for businesses, providing intelligent and scalable resource management capabilities.
🖱️You can check out Retain's pricing packages here.
DayShape
Unfortunately, DayShape doesn't disclose pricing on its website.❌ 
💡The verdict: While the exact comparison of costs would depend on the specific needs and size of your business, Retain's flexible, tailored, and transparent pricing approach, combined with the added value of advanced AI features, may give it an edge over DayShape. For businesses looking to optimise resource management while getting the best value for money, Retain is a smart choice.
However, as always, we recommend contacting both providers directly for the most accurate and up-to-date pricing information tailored to your business needs. 
In the next section, we will look at customer support, another crucial aspect of the overall software experience.
Retain vs DayShape: Customer support and reviews
When it comes to resource management software, the quality of customer support and user feedback are crucial considerations. Both Retain and DayShape have established reputations and gathered feedback from satisfied customers.
Retain
Retain's customer support is praised for being responsive and helpful. With dedicated support available via phone and email, the Retain team ensures that any issues or queries are addressed promptly and effectively. As part of the 'Expanding' and 'Enterprise' pricing packages, priority support is included, offering faster response times.
Reviewing Retain's customer feedback on Capterra, it has a strong rating, with resource managers highlighting the software's flexibility, ease of use, and comprehensive features. Many reviews commend the intuitive interface and the strength of the scheduling features, which allow users to manage resources effectively. The addition of AI capabilities in Retain 1.17 is also a game-changer, providing intelligent suggestions that improve project outcomes and resource utilisation. 
Here's just one example: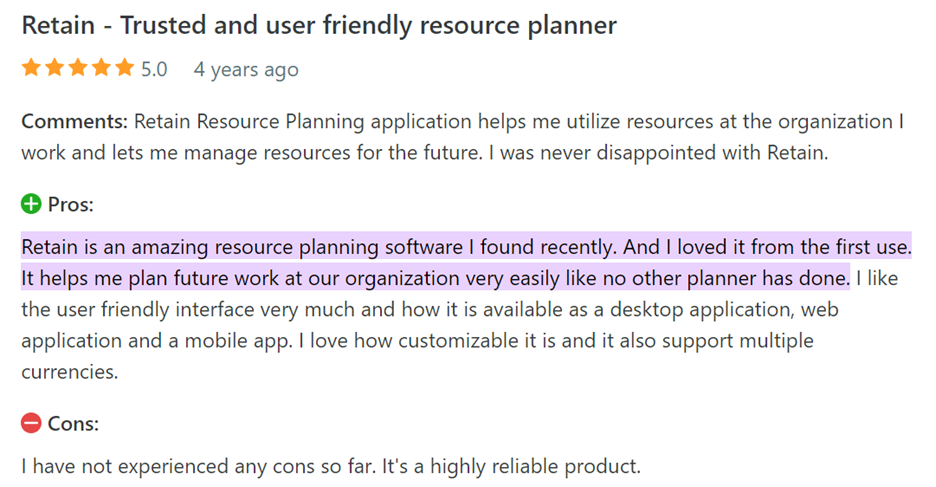 And here's what Dindo Geron, IT Audit Manager, at Mazars had to say:
"Thanks to the Retain solution, we're gaining a single source of truth for resource planning, which means that we can make decisions based on insight, not just instinct."
📚You can also read Retain's case studies here.
DayShape
Moving over to DayShape, dedicated customer success and support teams ensure you get value from DayShape. Its support team offers business hours support in customer time zones. 
Looking at DayShape's customer reviews, it also has a high rating, although we struggled to find many customer reviews online, particularly from large organisations. Yet those that have left reviews often commend the platform's interface and feature set. 
💡The verdict: Both software solutions are robust, but Retain's constant innovation, as seen in the AI functionalities of Retain 1.17, combined with high customer satisfaction and strong support, make it an excellent choice for businesses seeking to optimise resource management. 
Retain vs DayShape: Integration and customisation
Seamless integration with existing systems and the ability to customise the software to fit unique business needs are two critical factors when choosing a resource management tool. Both Retain and DayShape offer impressive capabilities in these areas:
Retain
Retain stands out with its robust integration and customisation capabilities. Retain can seamlessly connect with an array of commonly used business software, including CRM, HR systems, and more.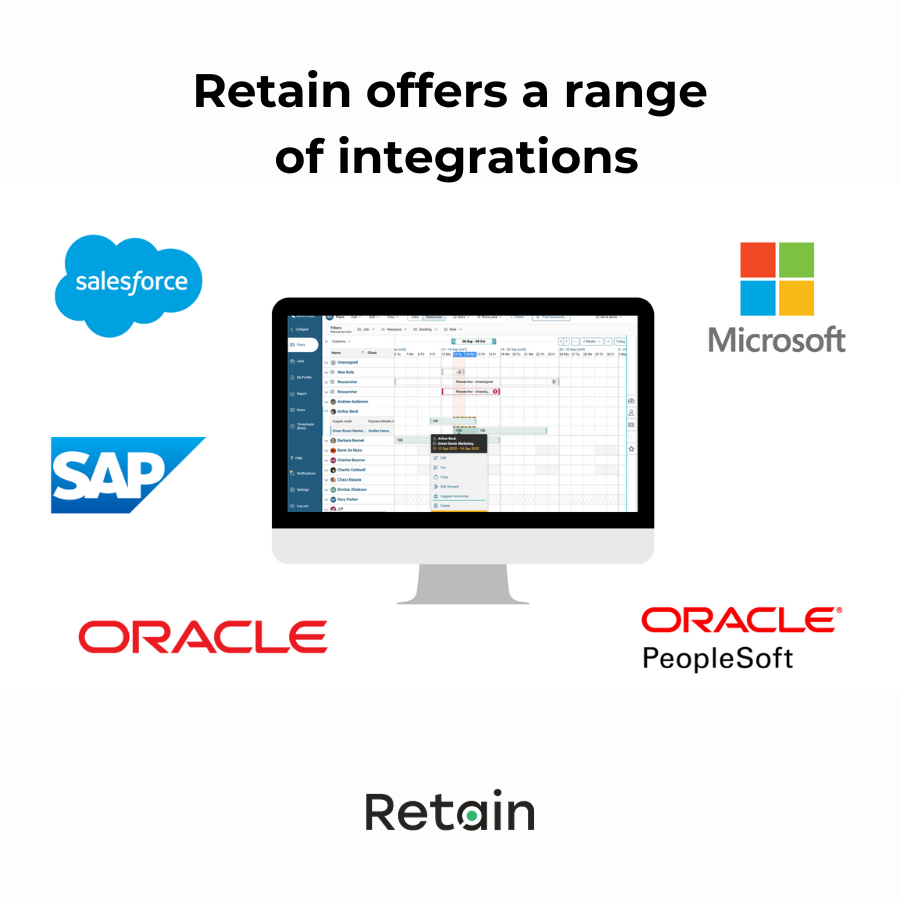 This integration capability allows for smooth data transfer and communication between platforms, enabling businesses to have a comprehensive and unified view of their operations. This capability saves time and increases the accuracy and efficiency of processes.
When it comes to customisation, Retain excels with its flexible system that can be tailored to fit the specific needs of each business. Features such as personalised dashboards, advanced BI reporting, and customised workflows allow users to adapt the platform to their unique requirements. Additionally, the AI capabilities in Retain 1.17 offer dynamic skill matching and intelligent resource recommendations, which learn and adapt to your business over time.
DayShape
DayShape also offers a range of integrations with other platforms, allowing for effective data synchronisation and increased operational efficiency. 
DayShape also offers some customisation options, allowing users to adjust the platform to their specific needs. However, compared to Retain's bespoke options for large enterprises, DayShape's customisation features may seem more limited.
💡The verdict: In summary, while both Retain and DayShape offer integration and customisation options, Retain comes out ahead with its extensive range of integrations, customisation capabilities, and intelligent AI features. These features make Retain not only a tool that fits into your current operations but also one that evolves with your business.
In the next section, we'll wrap up the comparison and provide our final thoughts on Retain vs DayShape.
Retain vs DayShape: Which is best?
When comparing Retain and DayShape, both tools bring a lot to the table, offering robust features, excellent usability, and committed customer support. They're both effective solutions for resource management, but there are clear differences that set them apart.
Retain stands out with its AI-powered capabilities, offering intelligent resource recommendations and dynamic skill matching. Its ability to continuously learn and optimise resource allocation based on past patterns and user feedback is a significant advantage. Coupled with Retain's simple yet speedy scheduling, efficient resource planning, and precise billable hours tracking, it proves to be a versatile and highly functional tool.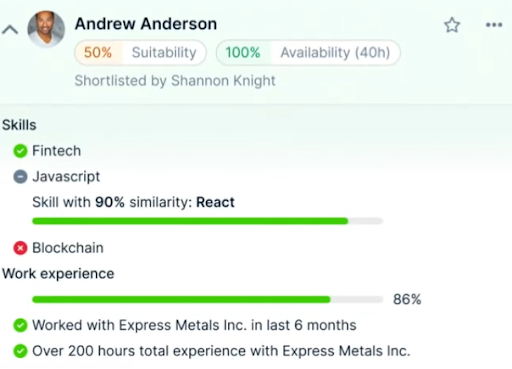 Retain also offers an attractive, tiered pricing model, which provides businesses of different sizes with the right balance of cost and functionality. In terms of customer support, customers love Retain's responsiveness and effectiveness. Moreover, its higher level of integration and customisation makes it a flexible solution that evolves with your business.
DayShape offers a clean interface, scheduling capabilities, and a range of integrations. However, its features and potentially more limited customisation options could make it less flexible and less powerful compared to Retain. 
In conclusion, if you're looking for software that provides intelligent recommendations, powerful integrations, excellent support, and has been at the forefront of resource management for over two-decades, Retain is an excellent choice. It caters to businesses of different sizes, adapts to your evolving needs, and offers future-proof resource management. 
As evident in the customer stories, it's the combination of Retain's extensive features, advanced AI capabilities, strong customer support, decades of experience, and the ability to tailor the system to their specific needs that truly set it apart.
Experience the Retain difference - an AI-driven resource management solution designed specifically for professional services firms, helping to maximise resource utilisation, improve project outcomes, and enhance overall business efficiency. 
If we've convinced you to put Retain on your shortlist, why not book a demo now. 
Or if you're looking for more resource management insights, you might enjoy these:
📗6 techniques for effective resource forecasting
📗How to build a business case for resource planning software [+ free template]
📗10 signs you've outgrown your current resource management software