Retain is thrilled to announce the highly anticipated release of Retain Cloud 1.16. This update brings a host of new capabilities that enhance the scheduling experience for businesses. From a refreshed user interface to powerful features like split bookings, job filters, over-budget warnings, enhanced planner views, and a dedicated mobile app, Retain Cloud 1.16 empowers users with increased flexibility, efficiency, and convenience. Join us as we explore the key features introduced in this exciting release.
A Fresh Look and Feel: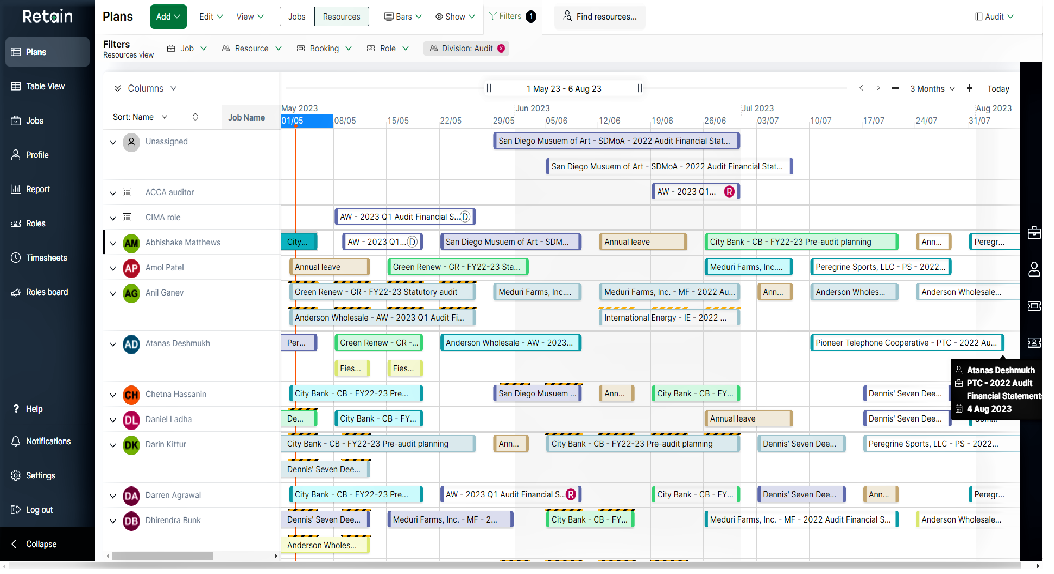 Retain Cloud's user interface has received a refreshing makeover in Release 1.16. The updated design reflects the branding of Retain International, presenting users with a visually appealing and cohesive interface. Immerse yourself in a modern and sleek environment that enhances your overall experience with Retain Cloud.
Split Bookings for Enhanced Flexibility:
Managing bookings becomes more flexible with the introduction of split bookings. By pressing the "S" key, a single booking can be effortlessly split into two separate segments, each with its own duration and assigned resources. This feature allows for greater adaptability when rescheduling, as multiple bookings can be split simultaneously. Enjoy the freedom to move and edit these split bookings independently, optimizing your scheduling process.


The two bookings can now be moved and edited separately

Job Filters Simplify Booking Creation:
Creating bookings becomes a breeze with the addition of job filters. When searching for a specific job during booking creation, Retain Cloud now offers the option to apply filters based on various job fields. You can narrow down the list of available jobs by selecting criteria such as client job names or custom job fields. This feature is particularly beneficial for businesses with similar or identical client job names, streamlining the selection process and improving accuracy.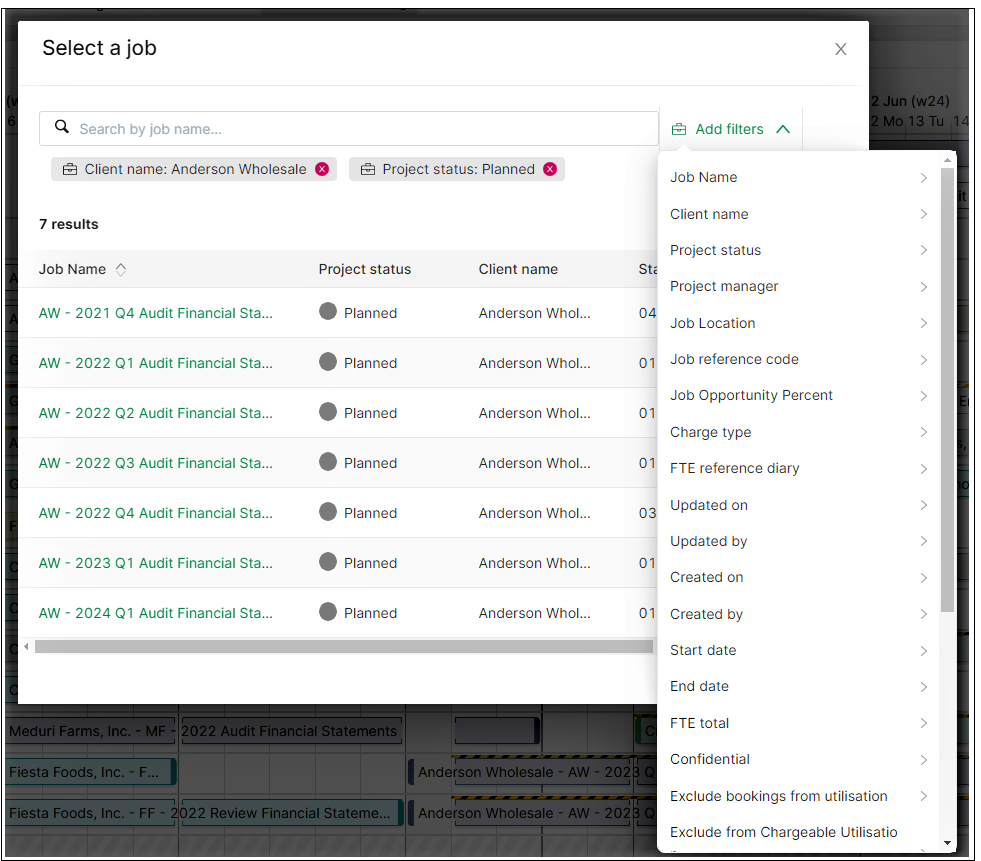 Over-Budget Warning for Controlled Project Management:
Retain Cloud introduces an over-budget warning feature to ensure projects stay within predefined budgets. When creating new planned bookings, the system automatically checks if the booking will exceed the allocated budget for the job. Although the booking can still be created, the budget consumed value will appear in red if it exceeds the set limit. This alert system helps maintain control over project costs and enables proactive budget management.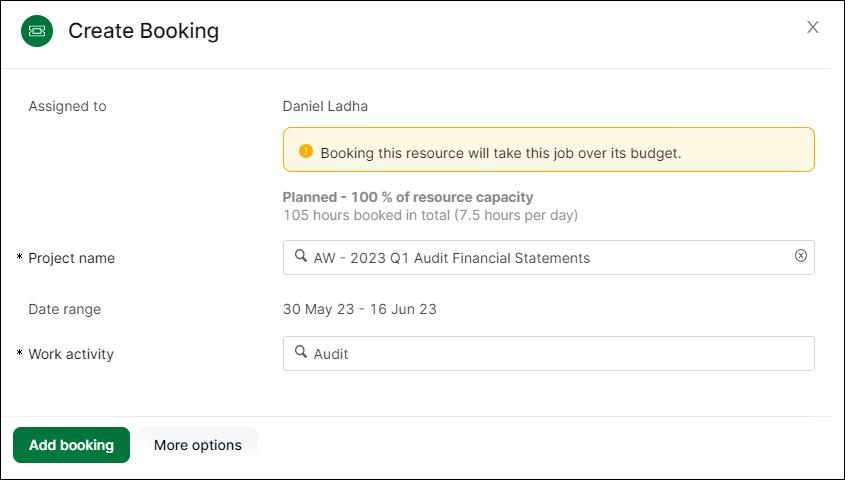 On the Job pane,the Budget consumed value will appear in red when over budget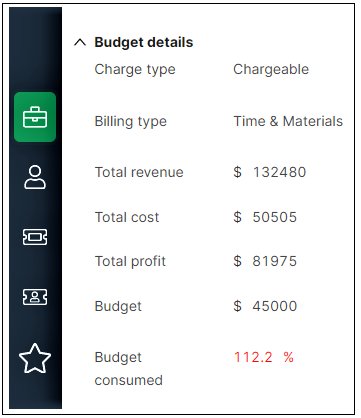 "Show" Menu Planner View Enhancements:
The planner view in Retain Cloud receives a significant boost in functionality with the "Show" menu enhancements. Users can now customize their planner view by displaying additional information and tailoring the view to their specific needs. Whether it's resource availability, project milestones, or important deadlines, the "Show" menu empowers users with greater visibility and comprehensive insights. Experience a planner view that aligns perfectly with your workflow and preferences. Unassigned bookings and inactive resources can now be easily shown or hidden from any planner view, providing a cleaner and more focused scheduling experience.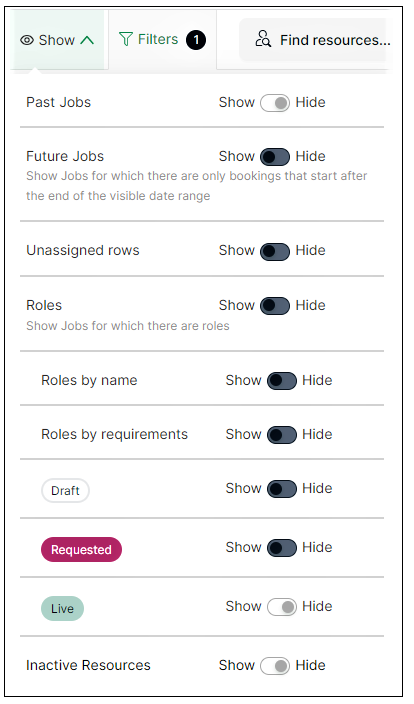 Resource/Jobs Pivoting Views:
Release 1.16 introduces a highly-requested feature that brings a refreshing dimension to your scheduling experience. Users can now enjoy rotated views for resources and jobs, presenting resource or job schedules in a horizontal orientation. This enhancement offers a fresh perspective, facilitating easier comprehension and enabling users to effortlessly analyze resource utilization, identify gaps or overlaps, and optimize scheduling decisions. For example, in the Resource planner view, selecting a booking allows users to pivot seamlessly to the Jobs planner view, where they can view all other bookings for that particular project. This seamless transition between views enhances project visibility and streamlines scheduling workflows.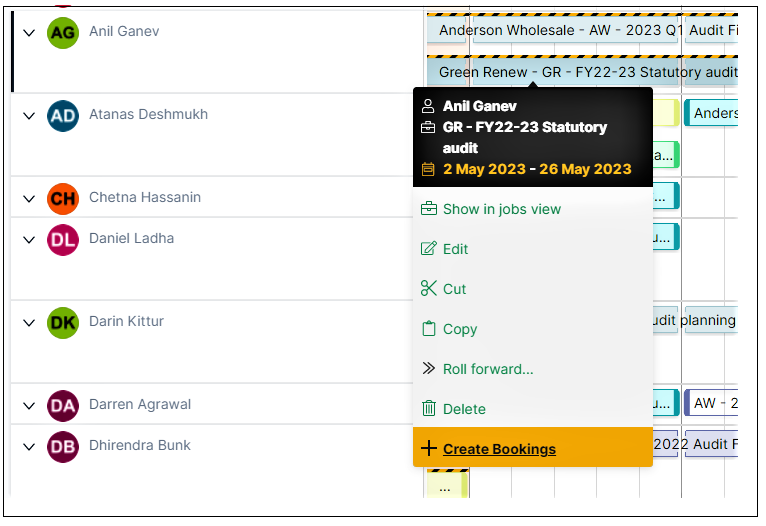 The Jobs view is now filtered by one project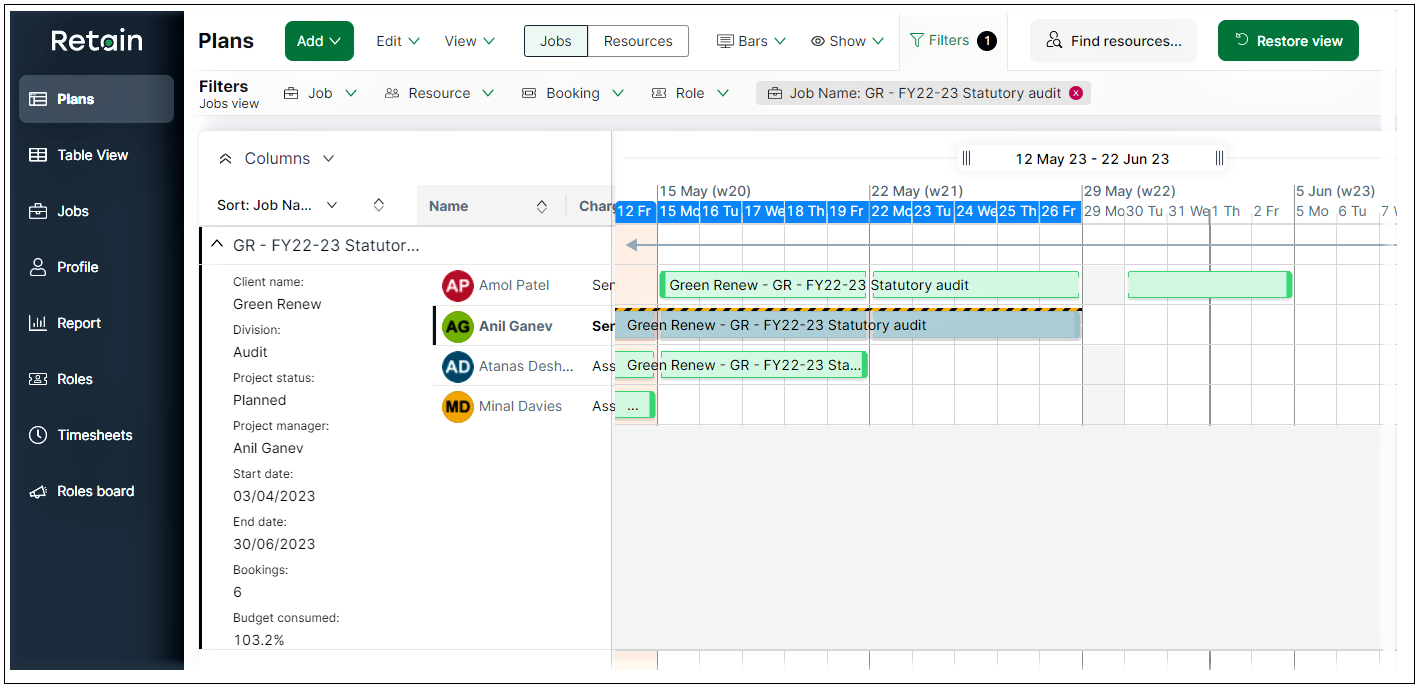 The Jobs planner view now lists all of the resources and associated bookings for that specific job. The same scenario applies if a resource is selected on the Jobs view and thenpivoted to the Resource view only that resource will be visible.
Retain Cloud Mobile App:
The release of Retain Cloud 1.16 brings an exciting addition—an intuitive mobile app. Designed for on-the-go professionals, the Retain Cloud Mobile App empowers resources to view their upcoming bookings directly from their smartphones. The app's summary screen provides an overview of all bookings in the next 30 days, allowing for easy access to booking and job details with a simple click. Collaborative features, such as commenting and notifications, enable seamless communication and efficient monitoring of updates and changes.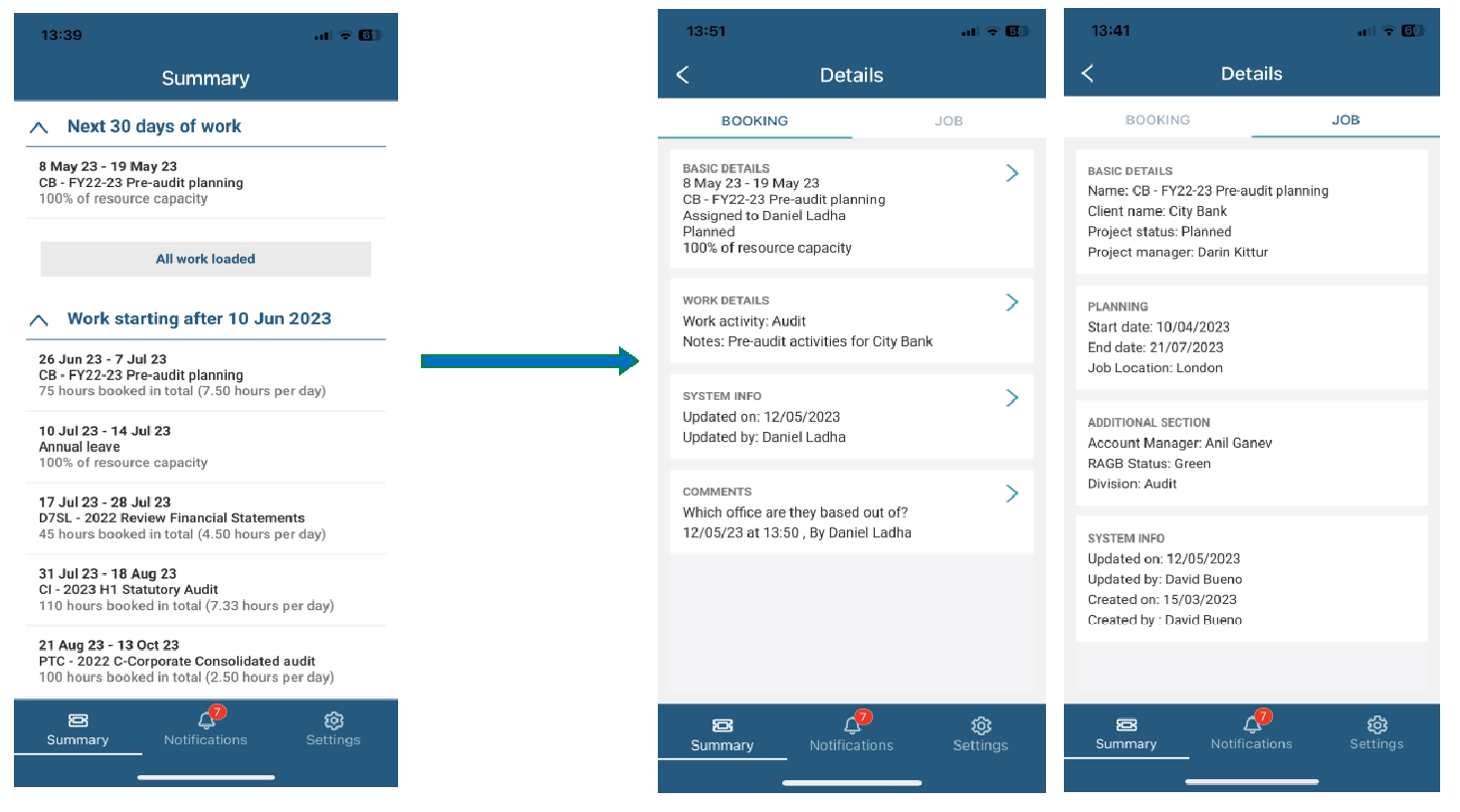 Comment and collaborate on bookings and monitor your notifications Confidential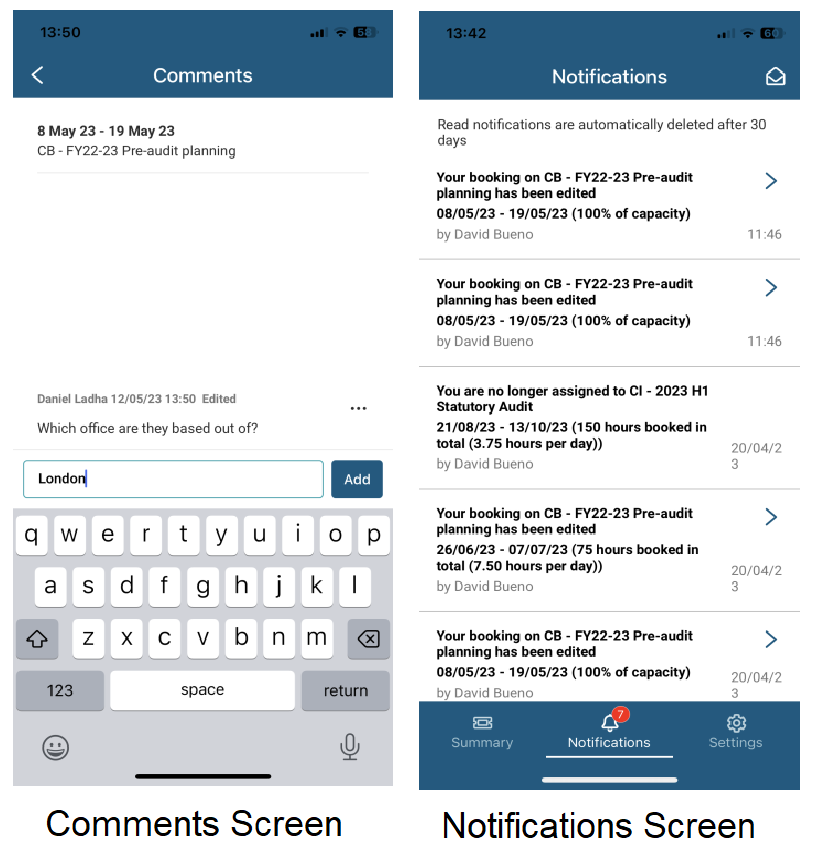 Comments can be viewed and added by selecting the Comments section on the Booking Details screen.
This allows collaboration between resources and planners who also have visibility of the booking within Retain.
A resource may also see and manage their Notifications
By selecting a notification you can view further information about the new, edited or unassigned booking.
Conclusion:
Retain Cloud Release 1.16 introduces an array of powerful features aimed at streamlining scheduling processes and improving user convenience. From the flexibility of split bookings to the efficiency of job filters and over-budget warnings, these enhancements ensure precision and control in project management. The improved planner views and the introduction of the Retain Cloud Mobile App offer increased accessibility and collaboration, allowing users to stay connected and productive on any device. Upgrade to Retain Cloud 1.16 and embrace the future of streamlined scheduling.
In addition to these exciting new features, Retain International has also addressed various known issues, enhancing the overall stability and performance of Retain Cloud. Enjoy a seamless scheduling experience and unlock the full potential of your resources with Retain Cloud 1.16.
Wish to talk further about how R1.16 can help your business?
Here are some information sources that can assist:

 - Your Retain Cloud Account Manager
- Our support team
- The"? Help" tab